Analisa Pengaruh Beban Kendaraan Terhadap Kerusakan dan Umur Rencana Jalan
( studi kasus perkerasan lentur jalan By Pass Padang KM 18)
Ahmad refi

Institut Teknologi Padang

Angelalia Roza

Institut Teknologi Padang

Anggun Pratiwi JF

Institut Teknologi Padang

Katrun Nada Salsabila

Institut Teknologi Padang

Andi Mulya Rusli

Kementrian Pekerjaan Umum dan Perumahan Rakyat
Keywords:
Overload, Remaining Life, Flexible Pavement, AASHTO 1993
Abstract
The Km-18 of Padang Bypass Road is an Arterial road class III-A. This road is burdened by heavy vehicles which carrying loads that exceed the permitted capacity. This activity can lead to road damage and a reduction in road life. This study aims to analyze the effect of traffic loads that exceed permitted capacity on road conditions, including the remaining life of the pavement and the degree of road damage. The primary data used is data on road damage conditions such as the discharge of road surface grains, potholes, and grooves. Secondary data used is in the form of LHR data for 2017 and 2018, also, the vehicle weight data obtained from P2JN West Sumatra Province. The analytical approach uses the 1993 AASHTO method in the form of a cumulative analysis of the 10-year ESAL plan, by the traffic design for flexible pavement. The result of this study indicates that the Km-18 of Padang Bypass Road has decreased 7.58% of its design life in 2020. The cumulative plan ESAL value is 70,792,016.05 and the cumulative ESAL overloading value is 192,394,000.9. The Truck factor (TF) in normal condition is 0.8176692, but in overloading condition, it is 6.1375255. The road life predicted to be ended in year 4 (in 2024), although it planned to end in 2027.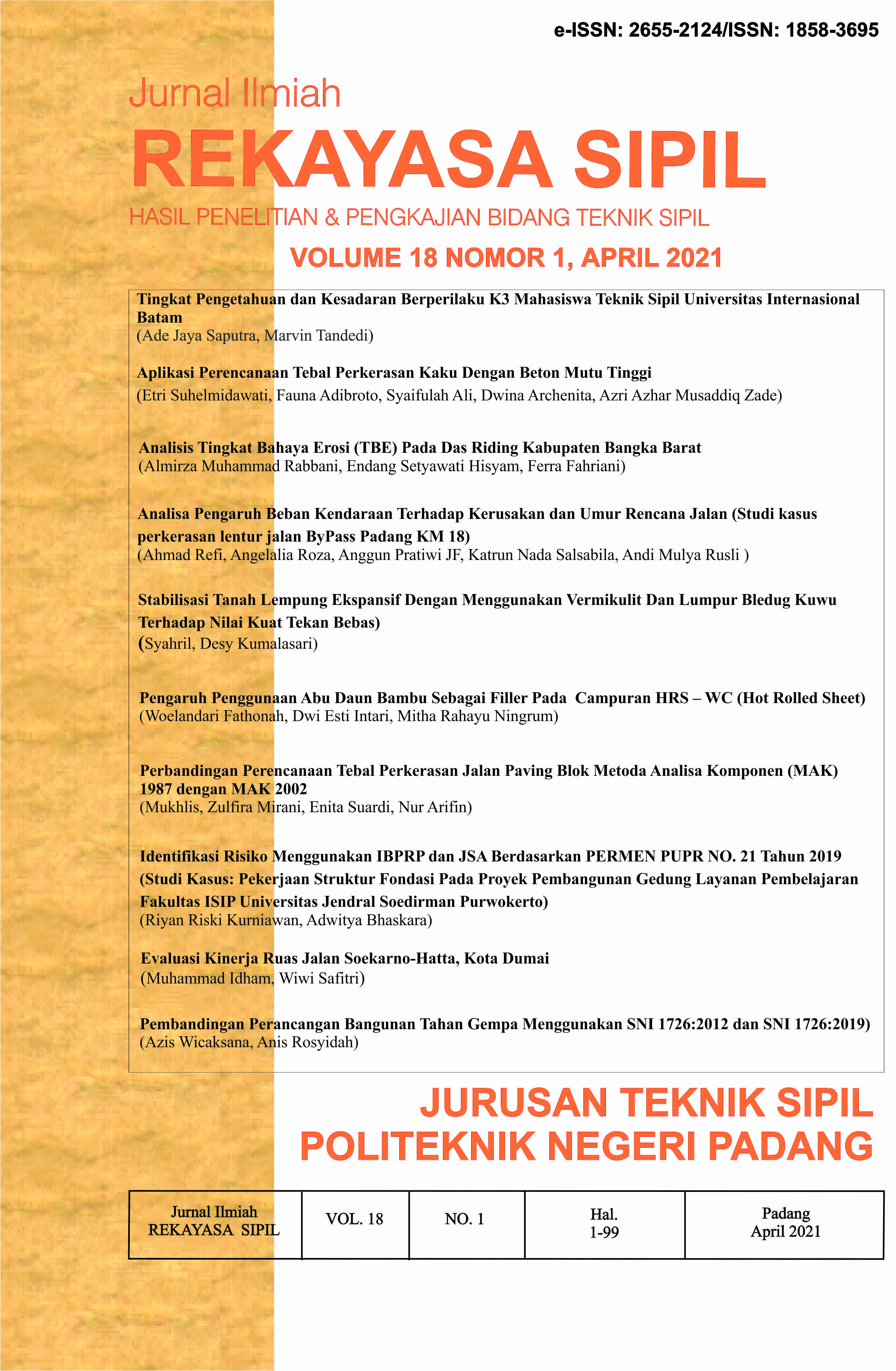 How to Cite
refi, A., Roza, A., JF, A., Salsabila, K., & Rusli, A. (2021). Analisa Pengaruh Beban Kendaraan Terhadap Kerusakan dan Umur Rencana Jalan. Jurnal Ilmiah Rekayasa Sipil, 18(1), 27-40. https://doi.org/10.30630/jirs.v18i1.521
Copyright (c) 2021 Jurnal Ilmiah Rekayasa Sipil
This work is licensed under a Creative Commons Attribution-NonCommercial-ShareAlike 4.0 International License.