Perbandingan Perencanaan Tebal Perkerasan Jalan Paving Block Metoda Analisa Komponen (MAK) 1987 dengan MAK 2002
Mukhlis MT

politeknik negeri padang

Zulfira Mirani

Politeknik Negeri Padang

Enita Suardi

Politeknik Negeri Padang

Nur Arifin

Politeknik Negeri Padang
Keywords:
Keywords: Concrete block pavement, MAK 1987,MAK  2002
Abstract
Concrete blocks are an alternative surface coating for road construction made of a mixture of cement, filler and water. The road that will be redesigned with pavement thickness is the DR. Moh. Hatta section of Pasar Baru - Gate of Unand Padang. This road has an uphill contour so that conventional roads are unable to withstand the flow of water falling down, causing puddles that can damage the road construction. Pavement thickness planning for paving block roads on Jalan DR. Moh. Hatta Padang uses the 1987 component analysis method and the 2002 component analysis method by entering the road planning parameters: the carrying capacity of the soil is obtained from the CBR value of the subgrade, the traffic load is obtained from the average daily traffic. With a subgrade CBR of 5.25%, 8 cm thick paving blocks with K-300 quality, 100% CBR crushed stone foundation layer, and 70% CBR gravel bottom foundation layer. So from the 1987CAM results obtained a surface layer with a thickness of 8 cm, 10 cm lean concrete, 15 cm top foundation layer, and 10 cm bottom foundation layer. While 2002 CAM obtained a surface layer of 8 cm thick, 10 cm of lean concrete, 10 cm of top foundation layer, and 10 cm of bottom foundation layer.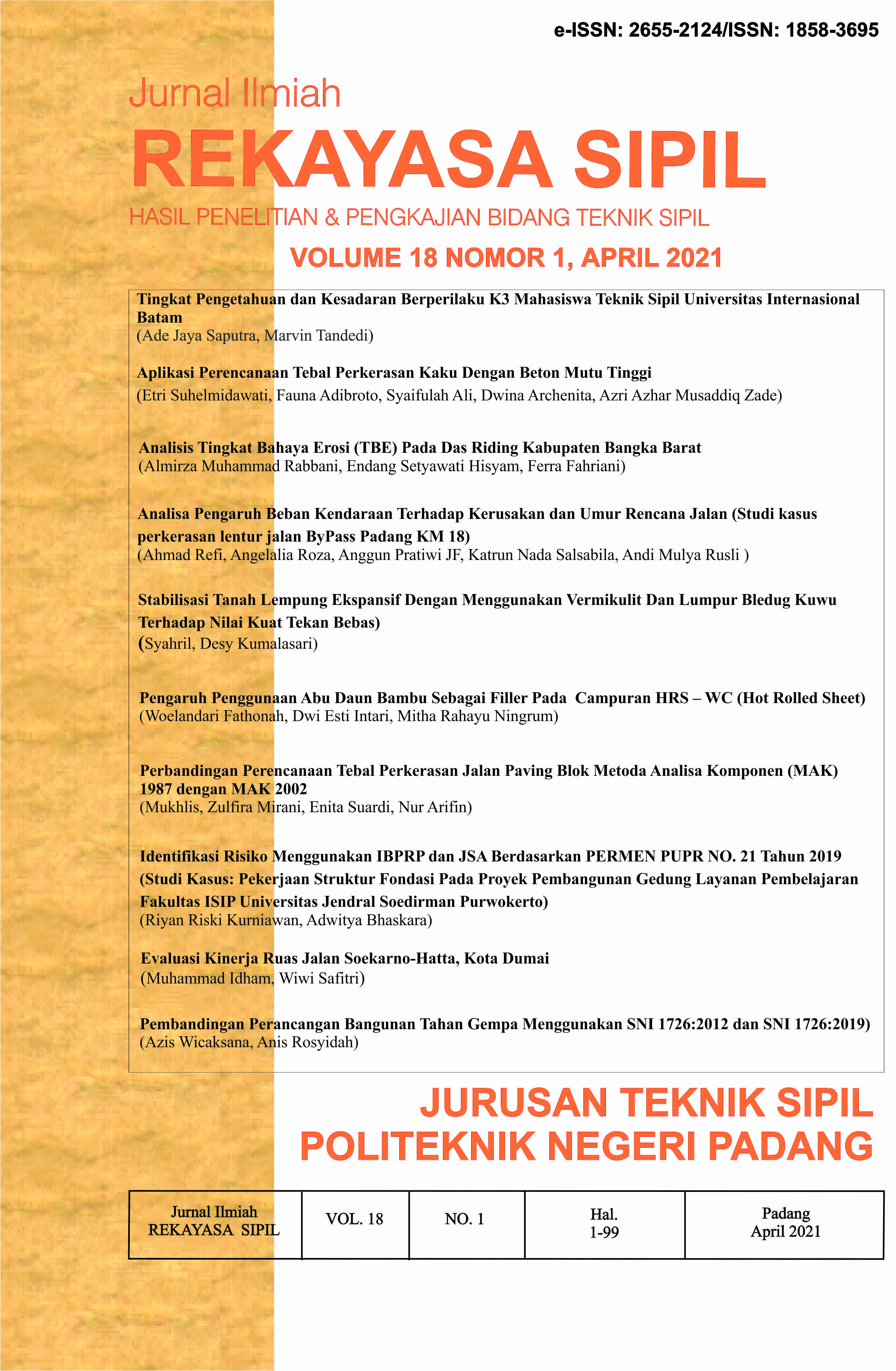 How to Cite
MT, M., Mirani, Z., Suardi, E., & Arifin, N. (2021). Perbandingan Perencanaan Tebal Perkerasan Jalan Paving Block Metoda Analisa Komponen (MAK) 1987 dengan MAK 2002. Jurnal Ilmiah Rekayasa Sipil, 18(1), 55-63. https://doi.org/10.30630/jirs.v18i1.536
Copyright (c) 2021 Jurnal Ilmiah Rekayasa Sipil
This work is licensed under a Creative Commons Attribution-NonCommercial-ShareAlike 4.0 International License.