Analisis Karakteristik Pasang Surut Air Laut terhadap Elevasi pada Pelabuhan Perairan Tanjung Uncang
Indrastuti Indrastuti

Universitas Internasional Batam

Nelso Chen

Universitas Internasional Batam
Keywords:
port, elevation, a tidal wave
Abstract
The tidal wave of seawater is one of the critical factors in port planning related to determining elevation. This research aimed to assess the effect of a tidal wave in the planning of port elevation at the Port of Tanjung Uncang so that the ship's estimated time can be determined. The research method is quantitatively based on primary data from PT. Graha Trisaka Industri and field observations. The results showed that the types of tides at Tanjung Uncang port were mixed tides, prevailing semi diurnal, which experienced two high tides and two low tides in one day. The highest sea level elevation (HHWS) occurred at 354.8 cm (+166.2 cm from MSL) and the lowest low sea level elevation occurred at -20 cm (-186.2 cm from MSL).
References
[1] M. Kadarisman, Y. Yuliantini, and S. A. Majid, "Formulasi Kebijakan Sistem Transportasi Laut," J. Manaj. Transp. Dan Logistik, vol. 3, no. 2, p. 161, 2017.
[2] Sari, Y.A., Pamadi, M "The Influence of Port Infrastructure on Logistics," vol. 10, no. April, pp. 33–40, 2021.
[3] E. Djunarsjah, Survei hidrografi/Nat Poerbandono. 2021.
[4] S. Kramadibrata, Perencanaan Pelabuhan. 2002.
[5] Y. A. Sari and M. Pamadi, "The Smart Port Concept of Batu Ampar Port in Batam," IOP Conf. Ser. Earth Environ. Sci., vol. 343, no. 1, 2019.
[6] K. Perindustrian, "Analisis Kenerja Pelabuhan," J. Chem. Inf. Model., pp. 1–144, 2019.
[7] S. Purwanto, Nugraha, A R., Siddhi, "Pemetaan Batimetri dan Analisis Pasang Surut Untuk Menentukan Elevasi Lantai Dermaga 136 di Muara Sungai Mahakam , Sanga – Sanga , Kalimantan Timur," J. Oseanografi, pp. 238–244, 2013.
[8] B. Triatmodjo, Perencanaan Pelabuhan. 2009.
[9] C. Mulyabakti, M. I. Jasin, and J. D. Mamoto, "Analisis Karakteristik Gelombang dan Pasang Surut Pada Daerah Pantai Paal Kecamatan Likupang Timur Kabupaten Minahasa Utara," J. Sipil Statik, vol. 4, no. 9, pp. 585–594, 2016.
[10] W. S. Supriyadi, E., Siswanto, S., & Pranowo, "Karakteristik Pasang Surut Di Perairan Pameungpeuk, Belitung, Dan Sarmi Berdasarkan Metode Admiralty," J. Meteorol. Dan Geofis., vol. 19, no. 1, p. 29, 2019.
[11] D. P. Fadilah, Suripin, Sasongko, "Menentukan Tipe Pasang Surut dan Muka Air Rencana Perairan Laut Kabupaten Bengkulu Tengah Menggunakan Metode Admiralty," Maspari J., vol. 6, no. 1, pp. 1–12, 2014.
[12] Musrifin, "Analisis dan Tipe Pasang Surut Perairan Pulau Jemur Riau," Berk. Perikan. Terubuk, vol. 40, no. 1, pp. 101–108, 2012.
[13] B. Triatmodjo, Perencanaan Pelabuhan. 2010.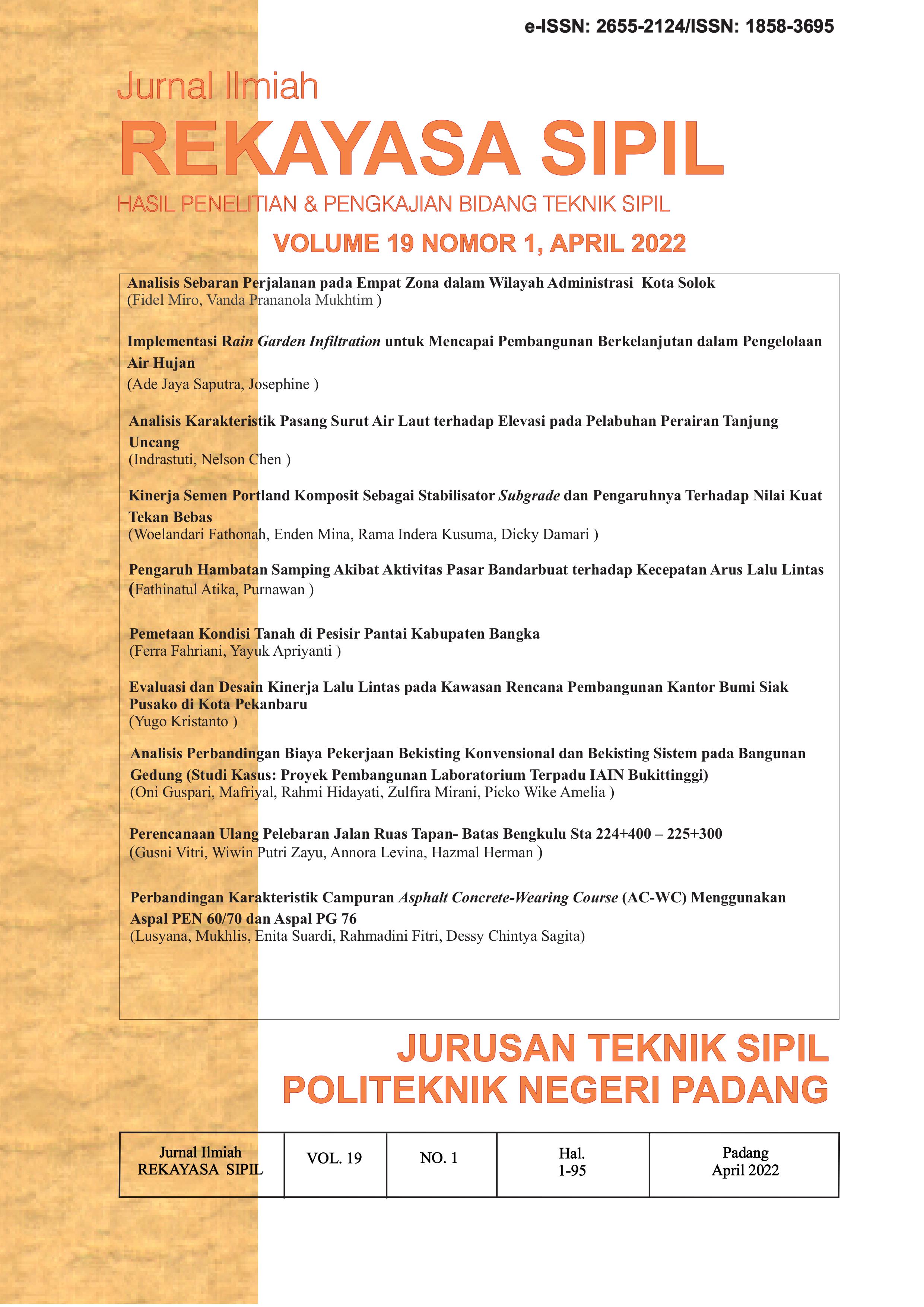 How to Cite
Indrastuti, I., & Chen, N. (2022). Analisis Karakteristik Pasang Surut Air Laut terhadap Elevasi pada Pelabuhan Perairan Tanjung Uncang. Jurnal Ilmiah Rekayasa Sipil, 19(1), 20-27. https://doi.org/10.30630/jirs.v19i1.763
Copyright (c) 2022 Jurnal Ilmiah Rekayasa Sipil
This work is licensed under a Creative Commons Attribution-NonCommercial-ShareAlike 4.0 International License.