Construction Safety Plan pada Gedung Bertingkat berdasarkan Peraturan Menteri Pekerjaan Umum Nomor 05/PRT/M/2014
Hendra Alexander

Politeknik Negeri Padang

Rahmi Hidayati

Politeknik Negeri Padang

Merley Misriani

Politeknik Negeri Padang

Yurisman Yurisman

Politeknik Negeri Padang

Willy Pangestu Haryanto

Politeknik Negeri Padang
Keywords:
Occupational Safety planning, risk identification, goals and OHS programs.
Abstract
This research is motivated by the frequent occurrence of work accidents in construction projects during 2017-2018, this gives a meaning that there is still a lack of attention to aspects of occupational health and safety (OHS). Therefore a plan is made which, if implemented in a project, can minimize the occurrence of work accidents called the construction safety plan. The purpose of this research is to make a construction safety plan by identifying any risks that can cause work accidents in construction projects.
This research is based on direct observation methods on construction projects and literature studies related to risk and OHS. This research begins by identifying risks based on the Minister of Public Works Regulation PERMENPU NUMBER: 05 / PRT / M / 2014 where there will be hazards that can cause workplace accidents and how to control them, then a construction safety plan consisting of work safety policies, targets and work safety programs, and implementation of workplace safety activities in the field.
The results of this study are that there are 36 risk variables that can cause work accidents, consisting of 7 variables with high risk, 21 variables with moderate risk and 8 variables with low risk. The targets made were the achievement of zero accidents with safety induction programs, safety precautions, safety talk, safety meetings, safety patrols and the use of personal protective equipment. Then the implementation plan of work safety in the field includes evacuation route planning, building protection planning, planning to work at height, etc.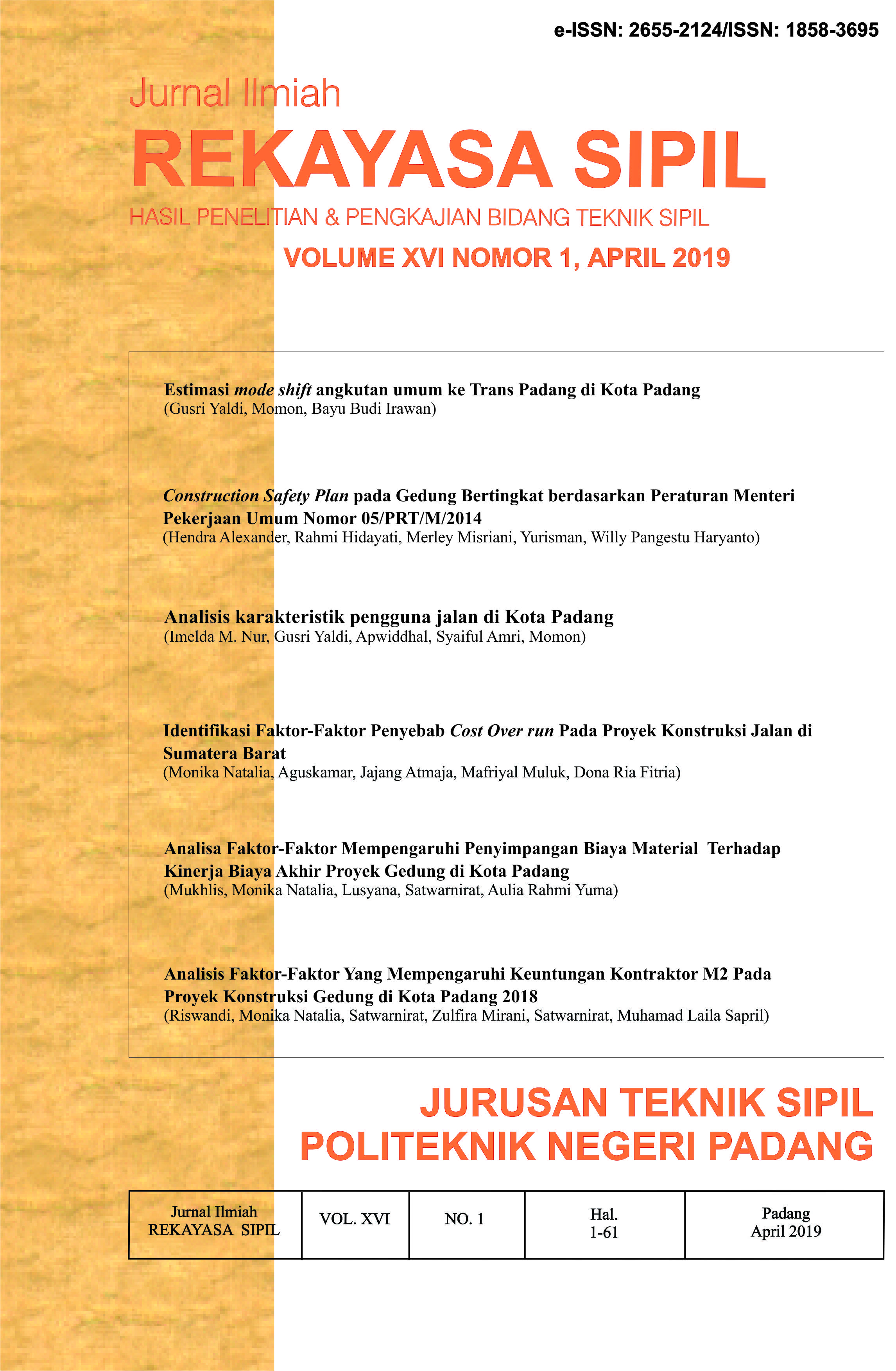 How to Cite
Alexander, H., Hidayati, R., Misriani, M., Yurisman, Y., & Haryanto, W. (2019). Construction Safety Plan pada Gedung Bertingkat berdasarkan Peraturan Menteri Pekerjaan Umum Nomor 05/PRT/M/2014. Jurnal Ilmiah Rekayasa Sipil, 16(1), p. 10-18. https://doi.org/10.30630/jirs.16.1.189